I just recently finished another metalwork embroidery piece, a rendition of my wife's heraldry. Here is Cwen's registered device:
I offered to make this in metal thread similar to the rendition I had recently done of my own device. Since her device is in sable and argent, I had the idea of doing "or nue" (shaded gold) using silver metallic thread rather than gold (argent nue? 🙂 )
The first step, of course was to draw out the design. I'm never terribly happy with my drawing skills, but I eventually came up with the following. I was pretty happy with this design, and Cwen liked it as well.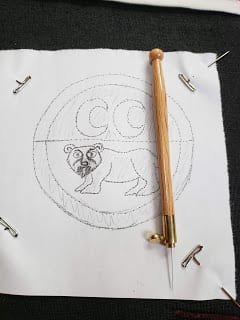 I transferred the design onto black linen using the prick-and-pounce method, with white flour as my pouncing powder. I then outlined the design in white thread.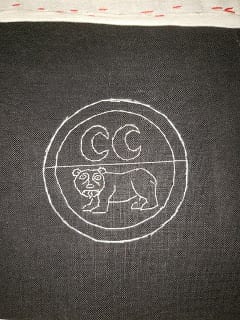 For the top section the background was in black silk over silver thread, with the border and moons using a bricked pattern couched with light grey silk. The bottom had the background in silver couched with grey, and the bear in black silk. Once the basic work was done, I outlined the designs in silver pearl purl to help smooth out the edges and make the design pop. Cwen and I were both happy with the final result. She plans to put it on a Viking ring pouch that will let her show off her arms.